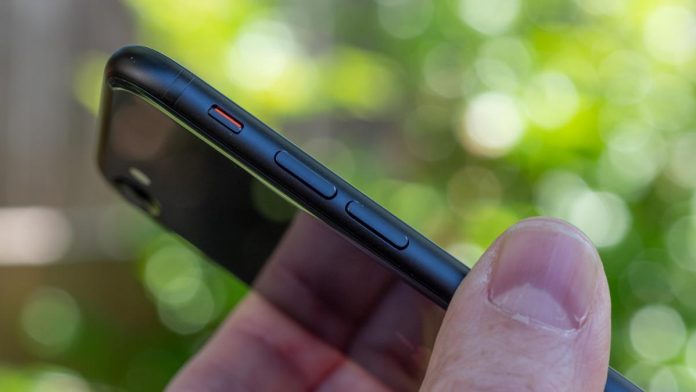 A new variant of the iPhone SE has been a long time coming. In fact, so long that many had given up on it ever seeing the light of day. But, here it is, a completely new 2020 iPhone SE in all its little- screened, easily pocketable beauty, and you have to wonder why Apple didn't do it earlier.
At a glance: Apple iPhone SE 2020 specifications
| | |
| --- | --- |
| Processor | Hexa-core Apple A13 Bionic (2 x 2.65GHz, 4 x 1.8GHz) |
| RAM | 3GB |
| Display size | 4.7in |
| Screen type | IPS |
| Screen resolution | 750 x 1,334 |
| Display PPI | 326ppi |
| Dimensions (WDH) | 67 x 138 x 7.3mm |
| Weight | 148g |
| Primary camera | 12MP, f/1.8 |
| Front camera | 7MP, f/2.2 |
| Dust and water resistance | IP67 Rating |
| Wireless charging | Yes |
| Storage options | 64GB, 128GB and 256GB |
| Battery capacity | 1,821mAh |
Of course, the answer is that it would prefer its customers to pay more on an iPhone 11, iPhone 11 Pro or iPhone 11 Pro Max than the cheaper iPhone SE. But with iPhone sales dwindling lately and fierce competition by Android rivals, Apple needs to encourage more people to buy iPhones, and bind them into the iOS ecosystem.
Design Language
If you want a relating point for the design of the iPhone SE 2020, then look no further than the iPhone 8. Launched back in 2017, the iPhone 8 remained on Apple's stores until the iPhone SE reappearance this year. Indeed, the iPhone SE 2020 basically duplicates the physical appearance of the iPhone 8 to the millimeter and gram; to be precise, it measures 138x67x7.3mm and weighs 138g.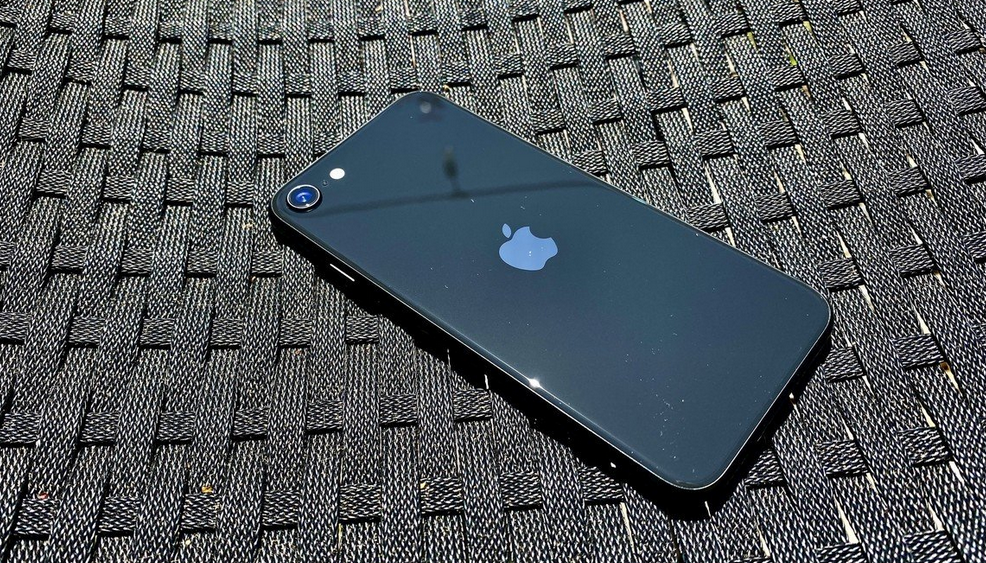 All the external buttons and features are in exactly the same place as the iPhone 8. The single-camera lies at the rear in the top left corner, the volume keys and Do not disturb button are on the left side, and the power switch is on the right. A pair of speaker grilles flank the Lightning connector on the bottom, and the Touch ID button on the front is haptic rather than mechanical.
Screen
When we've spent the last two years staring at mobiles with edge-to-edge displays, a handset with big clearly visible bezels at the top and bottom comes as a blow. While many people prefer a smaller form-factor smartphone, and for a good reason – many modern phones strive to fit in a pocket – there's no denying that a bigger display is so much more useful for consuming media content and playing games on. Also, the larger screen makes it easier to type out emails and social media messages.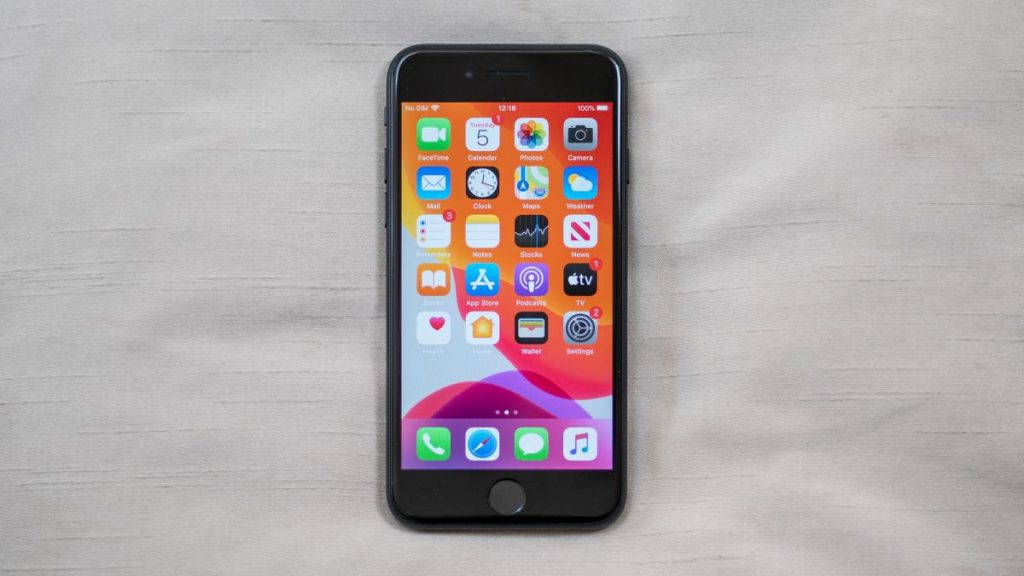 Still, what's here is pretty good. It's an IPS panel measuring 4.7in, and it has a resolution of 1,334×750 with a pixel density of 336ppi. Surprisingly, this is the same as the original iPhone SE's 4in screen and the 6.1in iPhone XR.
It's sharp enough, and it's also moderately good from a technical viewpoint. We found that peak brightness settled at 570cd/m2 and contrasted at 1,427:1, both of which are influential figures. Color production is as good as ever from Apple, with sRGB coverage scoring 95.5% and the average delta-E at an excellent low of 0.96.
Under the hood: A Powerhouse
With 3GB of memory and the same Apple A13 Bionic chip under the hood as its more pricey iPhone 11 siblings, you would expect performance to be better than the original SE, and that surely appears to be the case.
It's far faster than the old iPhone SE, but what's most eye-opening is how much quicker this phone is than mid-range Google rivals at the equivalent price – namely, the Google Pixel 3a and Pixel 3a XL. In the Geekbench system, the iPhone SE 2020 scored 5,455 in the single-core test and an excellent 13,771 in the multicore test, more than doubling the respective scores of both Google Pixel handsets.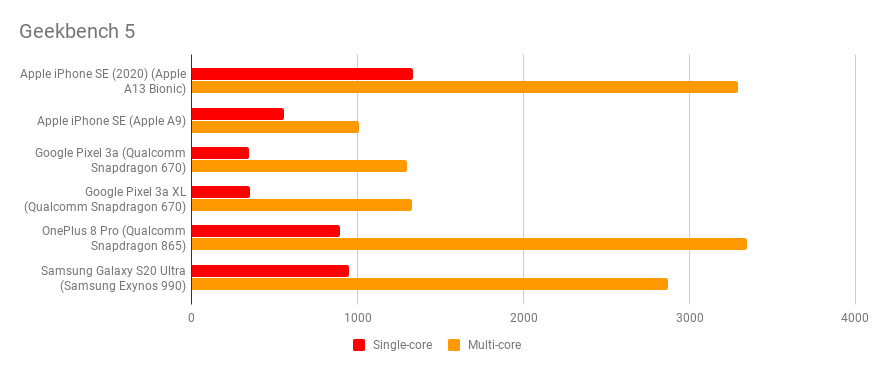 Alas, iOS does not support standard graphics benchmark – GFXBench GL. However, the GFXBench Metal benchmark works on iOs, so we used it instead for testing purposes. Unsurprisingly, the iPhone SE performance is as good as the iPhone 11. It tops out at 60fps in the onscreen test, which is run at native resolution and capped at the screen's 60Hz refresh rate. It equals the iPhone 11's frame rate in the offscreen test, which is designed to test the GPU graphics capabilities without the limitation of the 60Hz display.
That's truly something for a small phone costing US$399 and makes the iPhone SE the most powerful hardware in a sub $450 smartphone segment by quite some margin. This means that the phone will be able to run any game or app on the App Store today without having to bother about slowdown or stutter. Reasonably, more importantly, such excellent performance means that the SE will still feel quick even two to three years further down the track. It's also worth mentioning that the iPhone SE is more than a match in raw performance against the latest Qualcomm Snapdragon 865 powered phones, such as the OnePlus 8 and 8 Pro.
Power Source for the Powerhouse
Sadly, there's one vital area where the new iPhone SE can't match up with its rivals, and that's battery life. With the same miniature 1,821mAh power pack as the original iPhone 8, endurance suffers badly. In our testing, it lasted only 11h 35m in our rundown video test, which is somewhat better than the iPhone 8 but lower than the original iPhone SE.
Apple has included 18W fast charging this time around, mitigating this somewhat, and getting the phone up to 50% in 30 minutes. But when most current flagships last over 20 hours in the test, it's impossible not to be saddened by this result.
The almighty Cameras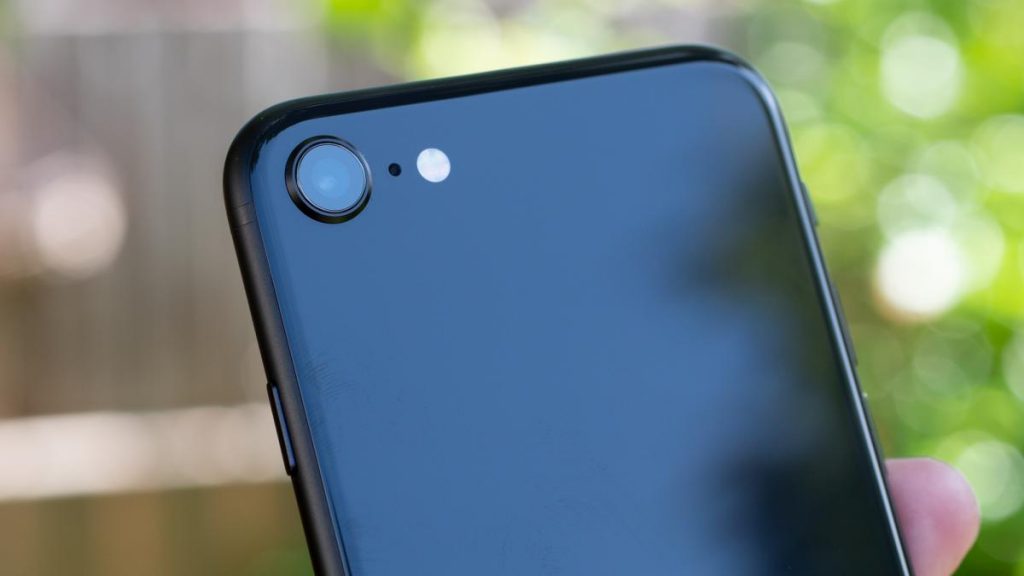 Perhaps there's better news from the photography department, comprising one 7-megapixel front-facing camera and a single-lens, 12-megapixel primary camera at the rear. The specifications are the same, and you won't be surprised to learn, as the iPhone 8, although it's important to note that image quality is much improved with the power of the A13 Bionic chip behind it. Shockingly, there's no Deep Fusion low-light mode or night mode, but the photos we've taken with the primary camera on iPhone SE 2020 have been good across the board. Apple's portrait mode brings out the 12-megapixel sensor's best, producing all the same lighting effects as you get in the costlier iPhones. That said, it can't truly match the iPhone 11 Pro Max's amazingly sharp images, but it's more than a match for comparably valued handsets.
For example, in portrait shots, it's clear to see that skin textures are on the softer side and hairs not as sharp as they are in the iPhone 11 Pro Max's images. Otherwise, however, they're quite good images, and not a world away from the pricier model's shot. It's a similar story in outdoor landscape pictures. There's the right amount of crisp detail in the iPhone SE's shots, but the iPhone 11 Pro Max again offers crisper details and a more vibrant color palette.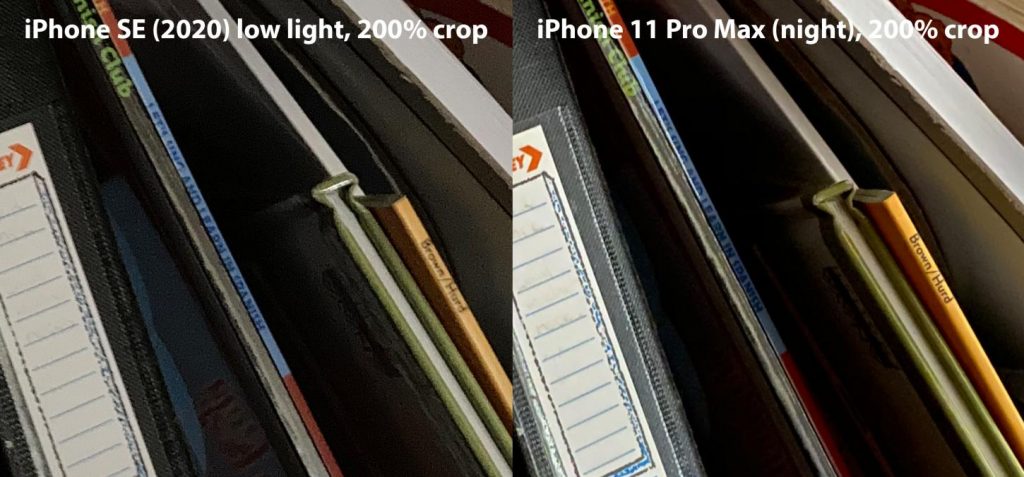 Surprisingly, in low light, the new iPhone SE holds its own even better against the iPhone 11 Pro Max. Although there's little more noise in the iPhone SE's shots, it isn't overly distracting, and colors are pleasant and neutral.
All in all, the iPhone SE 2020's primary camera delivers very well. It isn't as good as the iPhone 11 Pro's multi-lens camera system, but that's to be expected.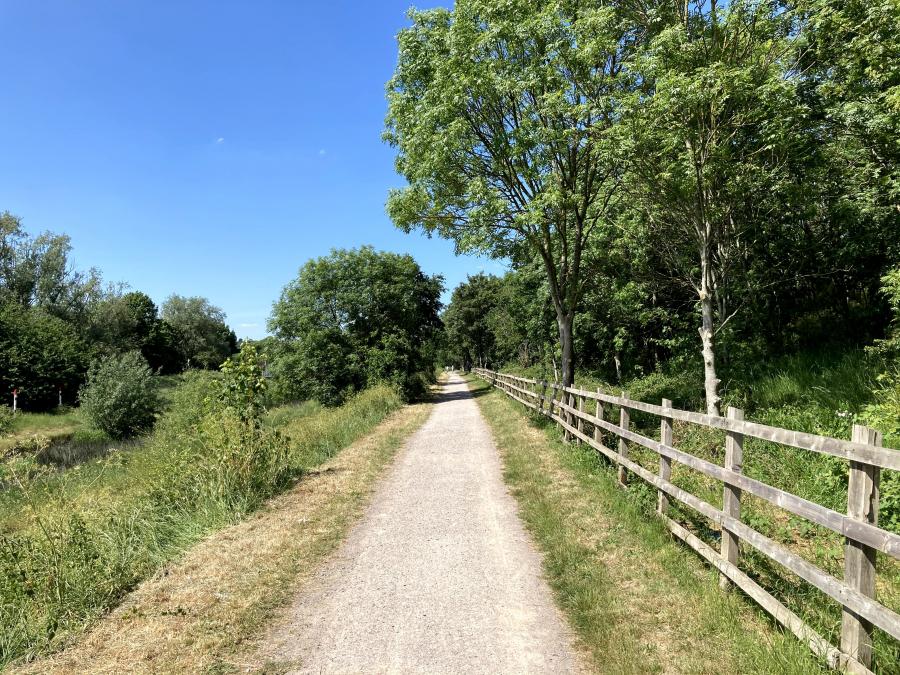 What's exceptional is how well it holds up across the board, producing images that regularly look great in good light. The front camera, though, settles for less. Firstly, it's pretty low in resolution, with 7 megapixels than the pricer iPhone 11's 12 megapixels. Even though the aperture is the same at f/2.2, the conclusion is that selfies taken with the new iPhone SE's front camera look considerably less impressive than portraits captured with the primary camera at the rear, generally looking softer and more washed out than the front-facing snaps of the iPhone 11 Pro Max.
Videography
Luckily, video quality is much better. This is where the iPhone SE's A13 Bionic chip actually comes into play, facilitating Smart HDR to keep exposures nice and even and apply image stabilization to 4K footage recorded at 60fps. Video quality is simply gorgeous, too, with plenty of detail, smooth stabilization without making it look overly artificial, and a decent frame rate that ensures your home movies will look great in most conditions. In short, no other device can compete with the phone's video-capture abilities at this price point. Despite the absence of ultra-wide-angle and zoom selections, it's a very good-quality video camera.
Final Verdict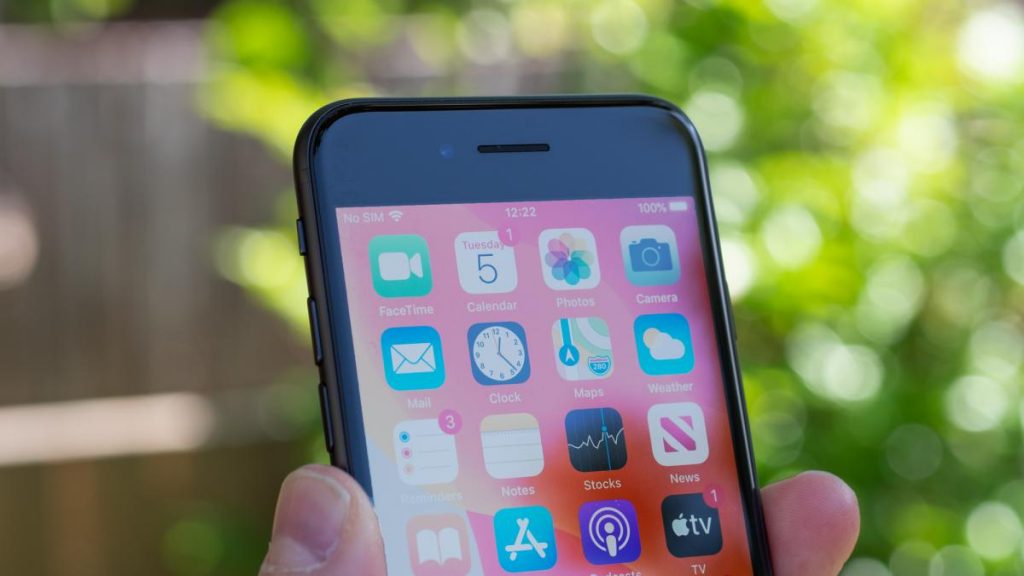 The iPhone SE 2020 is little more than a recycled iPhone 8: a jumble of parts old and new that shouldn't really go together. It has a small display, and honestly, it looks old-fashioned with those comparatively gigantic bezels. And still, there are many reasons you might consider it. It has a great camera and fantastic performance, it's lighter and smaller than most mobiles released today, and it's the cheapest current-generation iPhone by a vast margin. The weakest point of the phone is the battery life. That takes the shine off a bit, but if you only have US$399 to spend and you don't want a bigger phone, or you simply must own an Apple device, the iPhone SE is still well worth your money. It may be the cheapest iPhone, but it's still mightily majestic.